Nautile EVO is unique on 4 points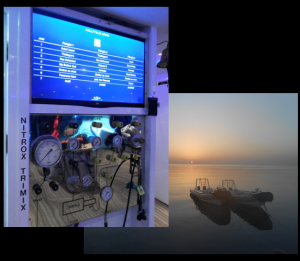 2 Zodiacs of 8m long equipped with two motors 85ch each ( pharmacy, Nitrox, O2 on each ).
Free NITROX class for everybody, every week.
Personalised and unique diving monitoring system ( developped exclusively for and with Anthias Plongee ). Using it means a permanent and easy dive check for everybody at anytime.
Defibrillator, pharmacy, O2, BAVU on the boat and on the 2 Zodiacs.
NITROX at -6m under the boat at each dive
The construction of the NAUTILE EVO remains a reference and an example in terms of innovations on the Red Sea, thanks to the indefatigable protective inventiveness of its designer, Serge Leroy.
About 40 m long and 8,50 m wide, its chess hull was specifically designed to improve the stability of the boat.
The different decks are designed exclusively by Nautile EVO!
The restaurant is spacious with original and modern decorations where 3 round tables welcome you in a very warm atmosphere. International and local menus are composed by us and sometimes by our customer ideas.
The Cosibar is on the Sun deck: an exceptional bar awaits you with cocktails, real Nespresso café, tea, chocolates, various international alcohols (not local ), Draft beer ,etc….
A terrasse and a restaurant ( with Jacuzzi ) are on the top deck and invite you to take dinners under the stars or to have dancing parties with stand up meals, etc….
The spacious cabins are as special as the rest of the boat, always with an "art deco" touch.
The new lounge (briefings and relaxation) invites you to travel around the history of Captain Nemo and his Nautilus in a contemporary fusion style.
Free WIFI on board ( except during some cruises which are too far away from the coast ).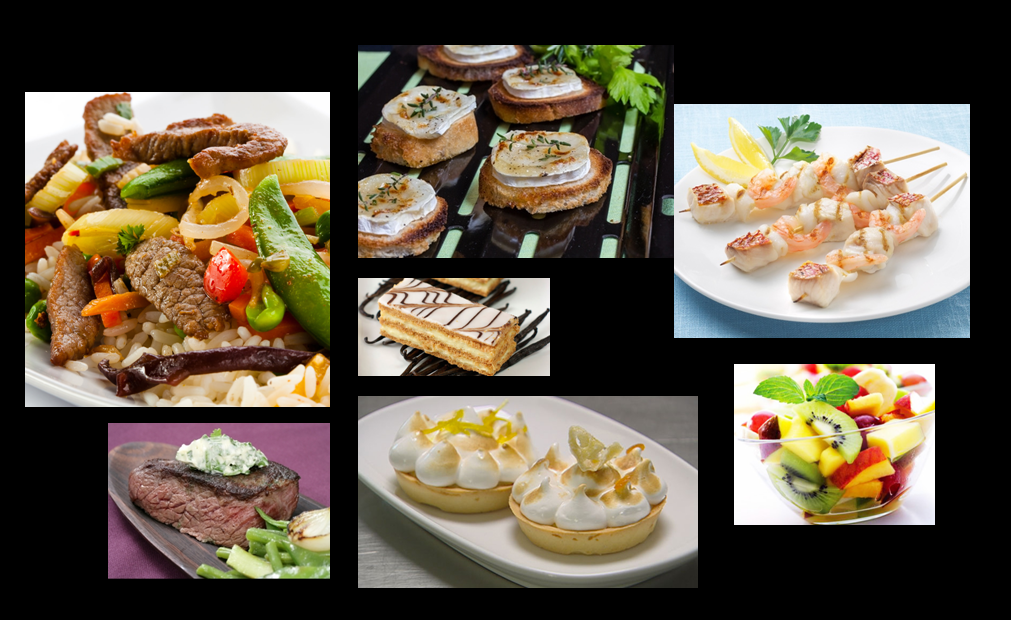 As French, what is more normal than to put all our attention on the content of our plate. With a professional kitchen and a team of 2 chefs (cook and pastry chef) and their second.
Oriental food ( Egypt- Magreb )
Asian food
French specialities
All desserts are home made
An organized transfer when your arrive at the airport, with visa supplied on arrival by our partner who will bring you to the boat.
You may reach Celine for questions on the booking, by phone (mobile, Signal) 7d/7d, or for any information you might need.
Kimo, the Egyptian manager (also owner of the boat) involved in this adventure since its beginnings, is at your service whenever you need.
Our team instructors are certificated and very professional. They are passionate about diving but especially by their profession that they continue to develop (instructors on rebreather, sidemount, trimix …). Christian and Alaa welcome you on board.
An Egyptian crew proud of its ship and devoted to its hosts
Click to enter the 360° tour
All cabins of the Nautile EVO are spacious and have been build with straight walls that means that you have real mattresses ( good quality and standard size – not foam mattresses cut in the shape of the hull).
They benefit from numerous storage spaces (cupboards, drawers, bedside cabinet, specific storage for the luggage, etc).
The bathrooms are private and are all equipped with a closed shower stall, dispensers of shower gel – shampoo – after shampoo, a washbasin with mirror and toilets. A hairdryer is also available.
NEW since 2019 : All cabins have now modular beds : twin beds or separated, according to your choice. (excepted cabins Whale Shark and our single cabins).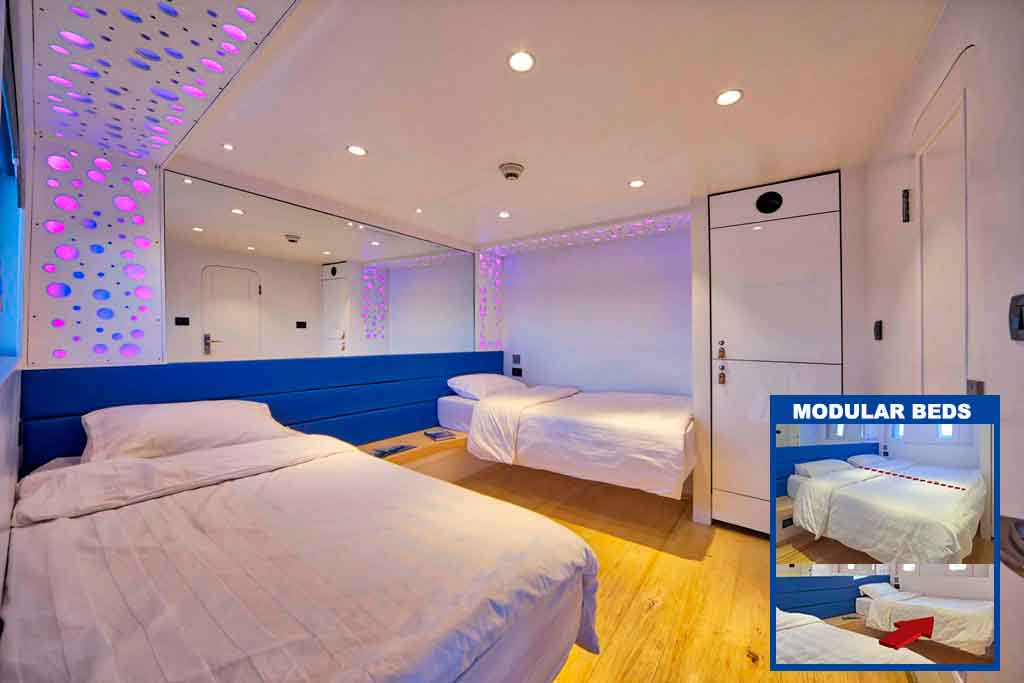 Standard Cabin
Spacious cabins "art deco" with 2 beds 90×200 cm (real bedding) located on the lower deck, lots of storage, private bathroom with large shower cubicle, separate WC. (Cabs Napoleon, Tortue, Raie pastenague plumetée, Diodon, Ange Geographe, Platax).
Without extra fees
Nemo Cabin and Great Dolphin Cabin
For "solitary" travelers, this is your cabin:
Spacious cabin with bed 140×200 cm, lots of storage and bathroom with separate shower cubicle, private WC.

200 euros extra fees/ pers./week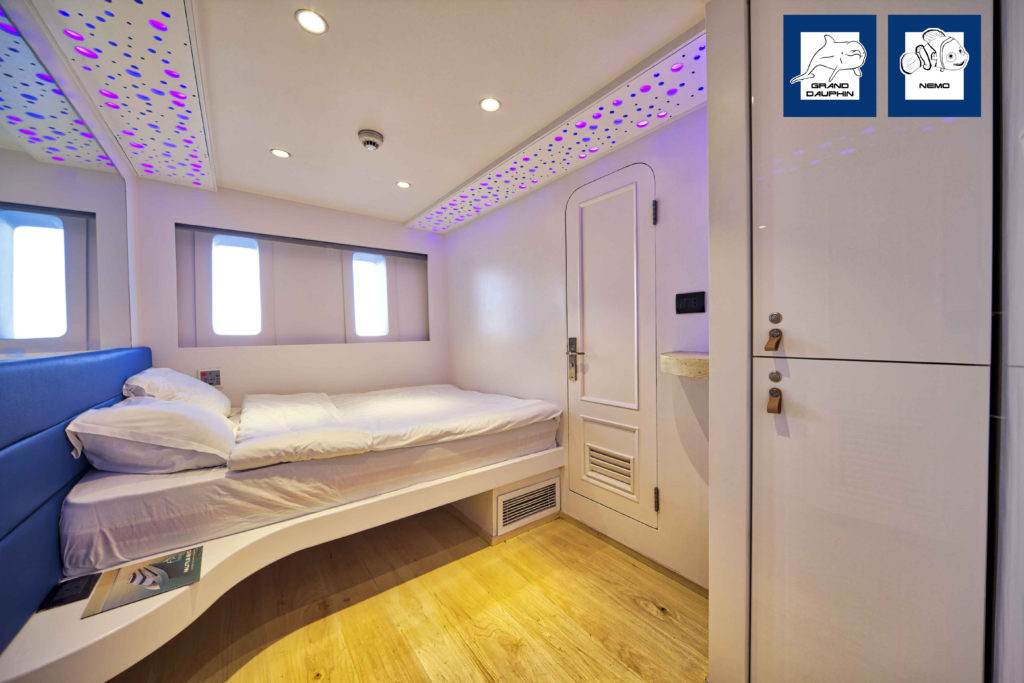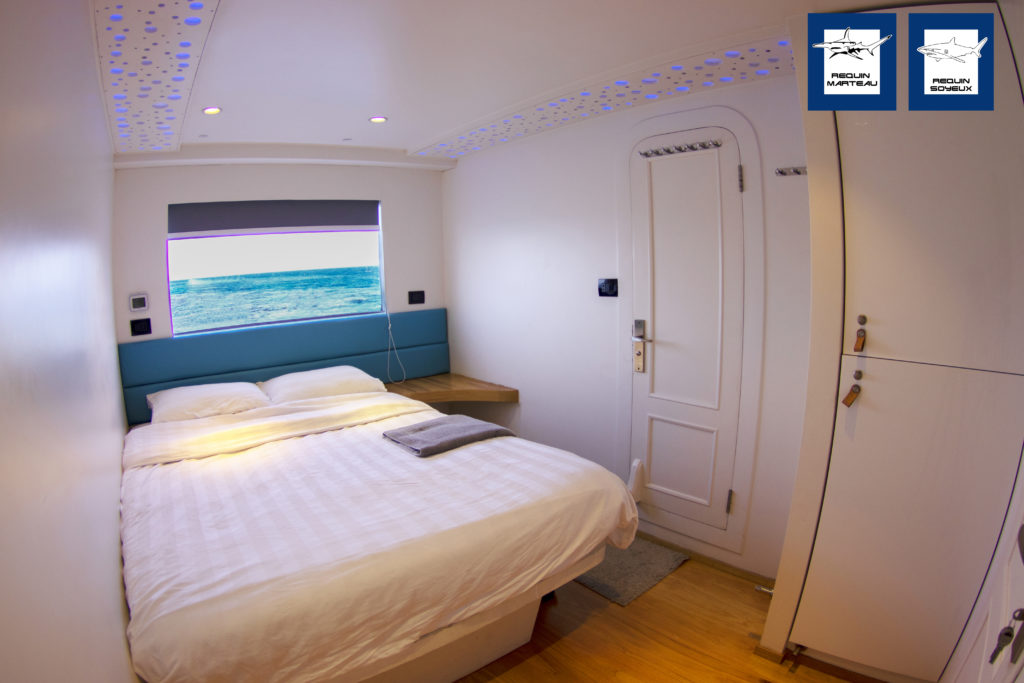 Hammerhead shark Cabin and Silk Shark Cabin
Single cabins :
Two single cabins identical as the Nemo cabin, but situated on the main deck of the boat with a big window for the beautiful view on the sea.
Bed 140x200cm, lots of storage and bathroom with separate shower cubicle, private WC.
250 euros extra fees/ pers./week
The Threser Shark & Gray Shark cabins
A little claustrophobia or simply the desire to be in the open air with direct view on the blue:
The two cabins Threser Shark & Gray Shark are situated to port and starboard of upper deck. They open directly to the outside. Equipped with 2 beds 90 x200 cm, numerous storage spaces. Private shower cubicle separated from the private WC. 
70 euros/pers./week extra fees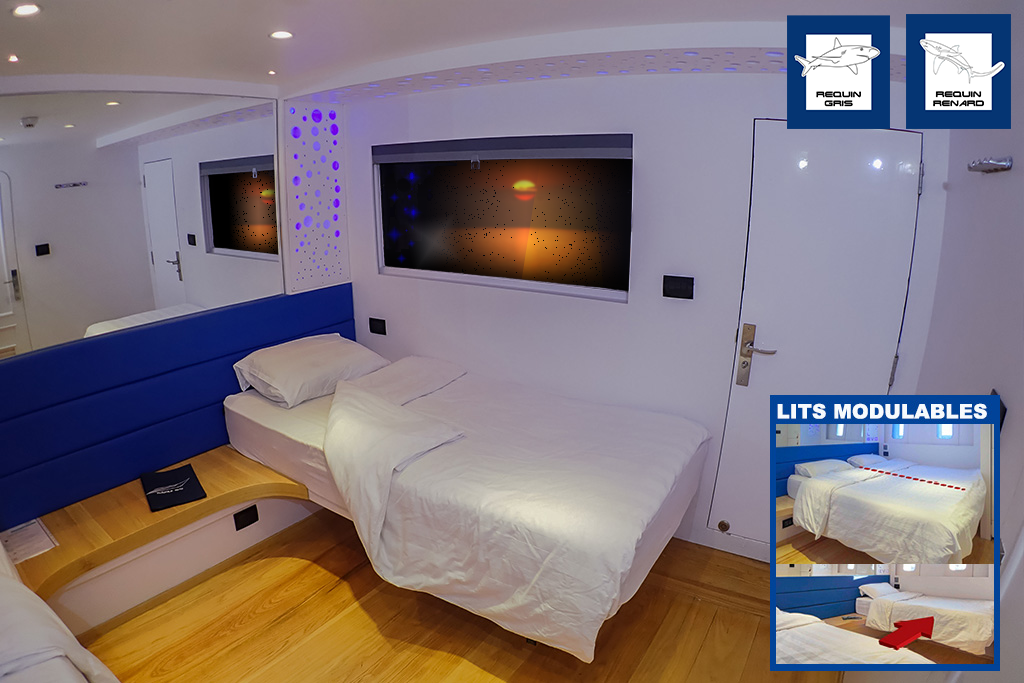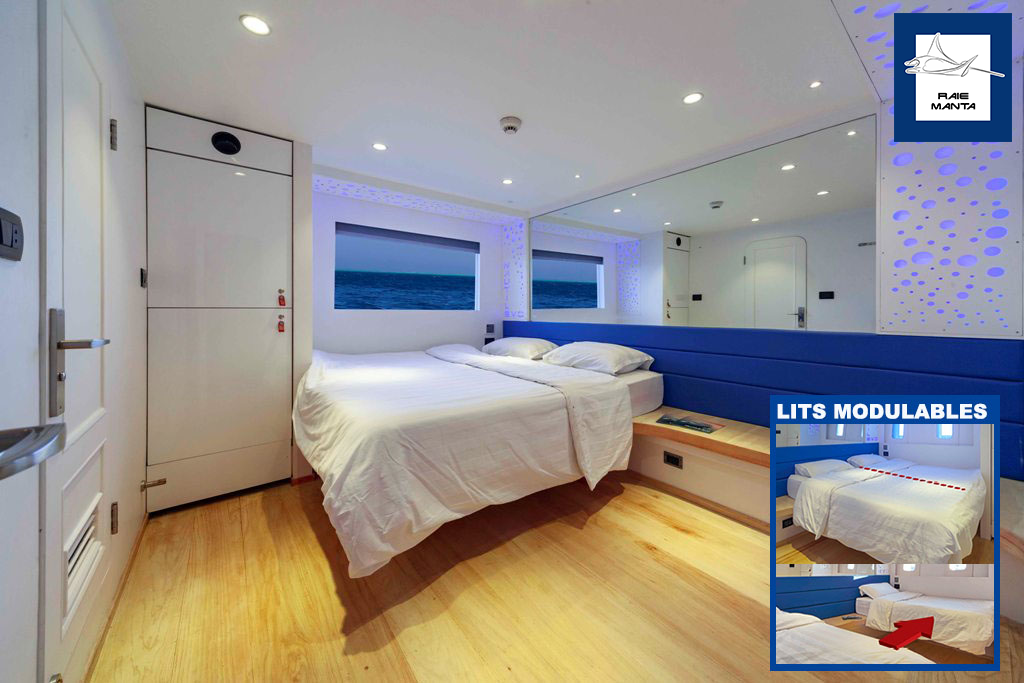 The Manta Ray cabin
The Manta Ray cabin is located on the middle deck (at the restaurant level).
It benefits from a lot of brightness with a big window giving you an impregnable view on the blue!
More spacious than the standard cabins, it is equipped with 2 beds 90×200 cm, lots of storage, a private bathroom and private WC.
70 euros/pers./week.
The Whale Shark cabin
 THE HIGHLIGHT ON THE NAUTILE EVO!
It can no longer be called "cabin", it is a VIP suite (20 m2), very bright. It welcomes you on the TOP floor and opens onto the terrace with jacuzzi. You will be directly on site for a sun bath. In the evening, lying in your king size bed, you will admire the stars …
Double bed 2 x 90 cm in single bed or separated. Panoramic view of the sea. Large private shower, separate private WC. Fridge
200 euros/pers./week